ASTM A335 P91 Seamless Ferritic Alloy-Steel Pipe
ASTM A335 P91Seamless Ferritic Alloy-SteelPipe Standard: ASTM A 335/A 335M Standard Specification for Seamless Ferritic Alloy-Steel Pipe for High-Temperature Service ASTM A335 P91Seamless Ferritic Alloy-Steel Pipescover nominal (average) wa
Description
ASTM A335 P91 Seamless Ferritic Alloy-Steel Pipe 
Standard:ASTM A 335/A 335M
Standard Specification for Seamless Ferritic Alloy-Steel Pipe for High-Temperature Service
ASTM A335 P91 Seamless Ferritic Alloy-Steel Pipes cover nominal (average) wall seamless alloy-steel pipe intended for high-temperature service.
ASTM A335 P91 steel
ASTM A335 P91 steel is an improved 9Cr-1Mo steel. When V, Nb and other alloy elements are added into the original 9Cr-1Mo martensitic steel, the allowable stress at 550-650 ℃ is significantly higher than that of 10CrMo910 and TP304 steel. Compared with 10CrMo910 steel, under the same temperature and pressure conditions, the pipe wall thickness can be reduced by 50%. The recommended use temperature of A335 P91 steel is below 650 ℃, A335 P91 steel has good high temperature resistance and resistance Corrosion and creep resistance,
ASTM A335 P91 steel pipe can be used in high pressure environment with steam temperature over 600 ℃.
Material properties of ASTM A335 P91:
At present, A335 P91 material has been widely used in reheater, superheater header, nozzle seat and steam pipeline of subcritical and supercritical power station boilers. A335 P91 belongs to martensitic heat strength steel. The pipe made of P91 steel has good mechanical properties, high temperature resistance and creep resistance.
ASTM A335 P91 Seamless Ferritic Alloy-Steel Pipe Quick Details
Manufacture:Seamless process ,Hot-finished or Cold-finished
Wall thickness(WT): 2.1mm——20 mm.
Outer diameter (OD): 21 mm——509mm
Common specifications:25mm*7mm,  141.3mm*6.55mm,  323.9mm*25.4mm,
Length: 6M or specified length as required.
Ends: Plain End, Beveled End, Treaded
Additional Info
Port of Shipment: Tianjin, China
Payment Terms:T / T, LC
Delivery: 7-15 days after payment
Surface: Tubes will be varnished (Outside only) to prevent rust.
Marking: Standard + Steel Grade + Size + Heat No + Lot No
Package: Bundles (hexagonal),Wooden Boxes,Crates (steel/wooden) or as required
Materials and Manufacture
Grade P91 Pipe may be either hot finished or cold drawn with the finishing treatment.
Heat Treatment:
Grade P91 Seamless Ferritic Alloy-Steel Pipes will be normalized at 1900°F [1040°C] minimum, and tempered at 1350°F [730°C] minimum as a final heat treatment.
Alternatively, liquid quenching and tempering is allowed for thicknesses above 3 in. when we mutually agreed with the purchaser.
Chemical Composition of ASTM A335 P91
| | | | | | | | | | | | | |
| --- | --- | --- | --- | --- | --- | --- | --- | --- | --- | --- | --- | --- |
| Grade | C | Mn | P | S | Si | Cr | Mo | V | N | Ni | Al | Nb |
| A335 P91 | 0.08-0.12 | 0.3-0.6 | ≤0.02 | ≤0.01 | 0.2-0.5 | 8.0-9.5 | 0.85-1.05 | 0.18-0.25 | 0.03-0.07 | ≤0.4 | ≤0.04 | 0.06-0.10 |
Mechanical Properties of ASTM A335 P91
Grade
Mechanical property
Tensile Strength(MPa)
Yield Strength(MPa)
Elongation(%)
P91
≥510
≥400
≥20
Analysis of welding performance of ASTM A335 P91
In alloy steel, in addition to carbon elements, other elements also play an important role in the strength and weldability of steel pipes. The carbon equivalent of A335 P91 refers to the welding carbon equivalent, which is calculated according to the following formula:
Ceq=C+Mn/6+(Cr+V+Mo)/5+(Cu+Ni)/15
Where CEQ is carbon equivalent
Therefore, the carbon equivalent of A335 P91 pipe CEQ = C + Mn / 6 + (Cr + V + Mo) / 5 + (Cu + Ni) / 15 = 0.08 + 0.30 / 6 + (8.0 + 0.18 + 0.85) / 5 + 0.4 / 15 = 1.9627
The middle value of carbon equivalent is 0.45. The smaller the corresponding carbon equivalent value is, the better the welding performance is. On the contrary, when the carbon equivalent value is larger, the worse the welding performance is. From the above calculation results of carbon equivalent of A335 P91 pipeline, it can be seen that 1.9627 is much larger than 0.45, so the welding performance of A335 P91 pipeline is poor.
Welding precautions:
1.The structure of A335 P9 steel is martensite, and the supply state is generally normalizing + tempering. It belongs to high alloy steel, which has poor weldability and is prone to cold cracks, embrittlement of welded joints, softening of HAZ area and other problems. Only in strict accordance with the process specification can satisfactory welded joints be obtained.
2. Welding and heat treatment temperature shall be strictly controlled, and welding with smaller parameters is the key point to ensure complete penetration of weld root.
3. The preheating temperature of heat treatment is moderate, and it should be controlled in the range of 150-200 ℃ as far as possible, which is conducive to the flow of molten iron in the weld pool, and overcomes the phenomenon of incomplete fusion and incomplete penetration at the root of weld due to the high Cr alloy is not easy to feed wire.
Outside diameter tolerances of ASTM A335 Seamless Ferritic Alloy-Steel Pipe
NPS Designator
Over
Under
in.
mm
in.
mm
1⁄8 to 1 1⁄2 , incl.
1 ⁄ 64 (0.015)
0.40
1 ⁄ 64 (0.015)
0.40
Over 1 1⁄2 to 4, incl.
1 ⁄ 32 (0.031)
0.79
1 ⁄ 32 (0.031)
0.79
Over 4 to 8, incl.
1 ⁄ 16 (0.062)
1.59
1 ⁄ 32 (0.031)
0.79
Over 8 to 12, incl.
3 ⁄ 32 (0.093)
2.38
1 ⁄ 32 (0.031)
0.79
Over 12
± 1 %
Hydrostatic Test
Each length of pipe shall be subjected to the hydrostatic test or nondestructive examination.
Mechanical Tests Required
Transverse or Longitudinal Tension Test and Flattening Test, Hardness Test, or Bend Test—For material heat treated in a batch-type furnace, tests shall be made on 5 % of the pipe from each treated lot.
For small lots, at least 1 pipe shall be tested. For material heat treated by the continuous process, tests shall be made on a sufficient number of pipe to constitute 5 % of the lot, but in no case less than 2 pipe.
 
Marking
In addition to the marking prescribed in Specification A 999/A 999M, the marking shall include the length, the ANSI schedule number and the heat number or manufacturer's number by which the heat can be identified.
Photos of ASTM A335 P91 Seamless Ferritic Alloy-Steel Pipe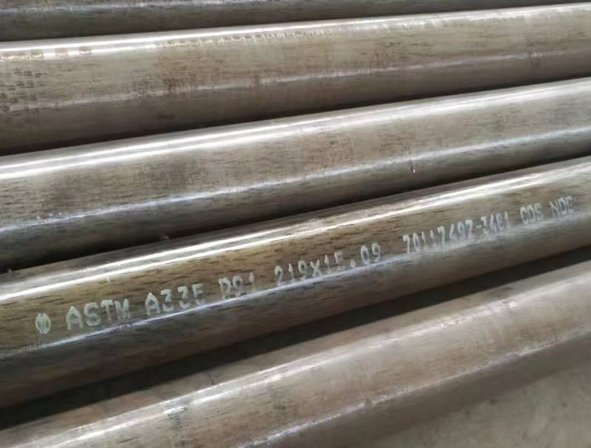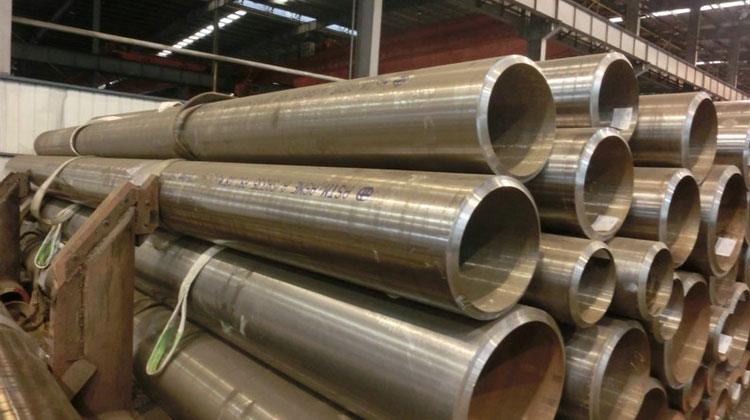 Note: Material furnished under ASTM A335 conform to the applicable requirements of the current edition of Specification A 999/A 999M
Comprehensive performance table of power station project::
| | | | |
| --- | --- | --- | --- |
| Project | Type | Material | Specifications |
| Datang International Shendong power plant | Seamless steel tube | A335 P91 | 25mm*7mm |
| CLP (Sihui) thermal power plant | Seamless steel tube | A335 P91 | 88.9mm*10.30mm |