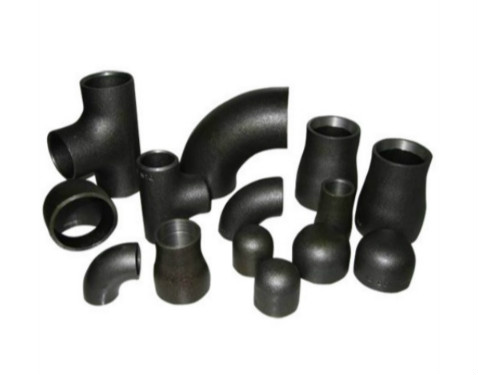 Carbon Steel Buttweld Tee, ASME/ANSI B16.9 Carbon Steel Reducer, ANSI B16.28 Carbon steel Tee, MSS SP-43/SP-79 A234 CS Fittings.
Carbon Steel Welded Buttweld Fitting, Carbon Steel Buttweld Pipe Cap, Carbon Steel Seamless Pipe Fitting Price in China.
Description
HGFF Group Co., Ltd is a leading manufacturer and supplier of Carbon Steel Pipe Fittings with superior resources and reliable machinery and technology. As a well-known manufacturer, we always focused on the durability and quality of our goods. We are also exporter and distributor of Carbon Steel Buttweld Fittings with highest quality raw material.
Our offered Carbon Steel Buttweld Pipe Elbows are Carbon Steel piping solutions made of Wrought Carbon Steel, basically for use in high-temperature service range. Carbon Steel Buttweld Seamless Pipe Fittings are the most frequently used pipe fittings. We have huge inventory of Carbon Steel Welded Fittings like elbows, caps, reducers, tees, couplings, unions, etc. which are the best option for pressure vessel and chemical and acid manufacturing areas. We are also stockholder of Carbon Steel pipe fittings such as Carbon Steel Buttweldelbow, Buttweld Carbon Steel cross, Buttweld Carbon Steel tee, Buttweld Carbon End Pipe Cap, Carbon Steel Buttweld stub ends, CS reducer, etc.
Specification
Carbon Steel Buttweld Fittings Specification
| | |
| --- | --- |
| Specifications | ASTM/ASME A234 WPB / A860 – MSS-SP-75 WPHY 42 / 46 / 52 / 56 / 60 / 65 / 70 |
| Low Temperature Steel | A420 WPL3 / A420 WPL6 |
| Dimensions | ASME/ANSI B16.9, ASME B16.28, MSS-SP-43 |
| Size | ½"NB to 48″NB in Sch 10s, 40s, 80s, 160s, XXS |
| Grades | WPBW, WPHY 42, WPHY 46, WPHY 52, WPH 60, WPHY 65 & WPHY 70 |
| Type | Seamless / Welded / Fabricated |
| Thickness | Sch 5s, Sch 10s, Sch 40s, Sch 80s, Sch 160s, Sch XXS |
Carbon Steel Buttweld Fittings Specification
| | |
| --- | --- |
| Specifications | ASTM/ASME A234 WPB / A860 – MSS-SP-75 WPHY 42 / 46 / 52 / 56 / 60 / 65 / 70 |
| Low Temperature Steel | A420 WPL3 / A420 WPL6 |
| Dimensions | ASME/ANSI B16.9, ASME B16.28, MSS-SP-43 |
| Size | ½"NB to 48″NB in Sch 10s, 40s, 80s, 160s, XXS |
| Grades | WPBW, WPHY 42, WPHY 46, WPHY 52, WPH 60, WPHY 65 & WPHY 70 |
| Type | Seamless / Welded / Fabricated |
| Thickness | Sch 5s, Sch 10s, Sch 40s, Sch 80s, Sch 160s, Sch XXS |
Carbon Steel Pipe Fittings
Seamless/ Welded 100% Radiography Tested
Carbon Steel Buttweld Pipe Fittings Types
Size
Carbon Steel Buttweld 45° Elbow
Carbon Steel Buttweld Tees
Carbon Steel Elbow – Long Radius
Carbon Steel Buttweld Elbow – Short Radius
Sizes 1/2″ – 48″
Carbon Steel Buttweld Seamless Fittings
Carbon Steel Welded Pipe Fittings
Carbon Steel Buttweld Reducing Elbow
Carbon Steel Reducing Cross
Carbon Steel Fabricated Tee
Carbon Steel Buttweld Pipe Cap
Carbon Steel Buttweld Reducer
Carbon Steel Buttweld Stub Ends
Carbon Steel Concentric Reducer
Carbon Steel Eccentric Reducer
Carbon Steel Buttweld 3D Elbow
Carbon Steel Buttweld 5D Elbow
Carbon Steel Schedule 40 Pipe Fitting
CS Buttweld Pipe Fittings
CS Buttweld Elbow
CS Welded Fittings
Carbon Steel Pipe Nipple
Carbon Steel Buttweld Cross
Application
Carbon Steel WPB Buttweld Pipe Fittings Application
Carbon Steel ASTM A234 WPB Pipe Fittings are known to deliver exceptional performance and are generally
developed for meeting the demands. We oer a broad range of Carbon Steel ASTM A234 WPB Buttweld Pipe
Fittings through a worldwide network of stock-keeping branches. These ASTM A234 WPB Buttweld Fittings is use
in various industries like :
People Also Searched For
A Wide Range Of the Best Quality WPB Carbon Steel Pipe Fittings, Carbon Steel Fittings, a234 wpb chemical
composition, sa234 wpb material specication, a234 WPB elbow price, carbon steel pipe ttings dimensions
chart, weld on pipe ttings price, mild steel weldable elbows, carbon steel pipe ttings suppliers, carbon steel
 Carbon Steel WPB Buttweld Pipe Fitting uses in Oil and Gas Pipeline
 ASTM A234 WPB Buttweld Pipe Fittings uses in Chemical Industry
 Grade WPB Carbon Steel Pipe Fittings uses in Plumbing
 Carbon Steel ASTM A234 WPB Buttweld Pipe Fittings uses in Heating
 ASTM A234 WPB Pipe Fittings uses in Water Supply Systems
 Carbon Steel ASTM A234 WPB Buttweld Fittings uses in Power Plant
 Carbon Steel WPB Butt weld Pipe Fittings uses in Paper & Pulp Industry
 WPB Carbon Steel Buttweld Pipe Fittings uses in General Purpose Applications
 ASME SA234 Carbon Steel WPB Pipe Fittings uses in Fabrication Industry
 Carbon Steel WPB Buttweld Fittings uses in Food Processing Industry
 Carbon WPB Buttweld Pipe Fittings uses in Structural Pipe
Type
Carbon Steel Buttweld Fittings Available Types & Shapes
| | |
| --- | --- |
| Carbon Steel Buttweld Pipe Elbow | Carbon Steel Buttweld Tee |
| Carbon Steel Buttweld Pipe Fittings | Carbon Steel Buttweld Pipe Fittings |
| Carbon Steel Buttweld Reducer | ANSI Carbon Steel Pipe Fittings |
| CS Buttweld Stubends | Carbon Steel Buttweld Fitting |
| Carbon Steel Buttweld Seamless Pipe Fittings | Carbon Steel Buttweld Welded Fittings |
| Carbon Steel Buttweld Tee | Carbon Steel Buttweld Cross |
| Carbon Steel Butt weld Fittings | Carbon Steel Pipe End Cap |
| Carbon Steel Buttweld 45deg. Elbow | Carbon Steel Buttweld 90deg. LR Elbow |
| ANSI B16.9 Carbon Steel Buttweld Fitting | Carbon Steel Buttweld End Pipe Cap |
| CS Butt weld Reducing Nipple | Carbon Buttweld Short Radius Elbow |
| Carbon Steel Welded Fittings | Carbon Steel Buttweld Pipe Fittings |
Carbon Steel Buttweld Pipe Fittings In Ready Stock
Carbon Steel High Pressure Pipe Fittings
Carbon Steel Buttweld Fittings
CS Buttweld Pipe Fittings
Carbon Steel Buttweld Tee
Carbon Steel Buttweld Reducer
CS Buttweld 90 Degree Elbows
Carbon Steel piping fitting
CS large Pipe Fittings
Carbon Steel specialty Pipe Fittings
ASME B16.9 Carbon Steel Pipe Fittings
CS Galvanized Pipe Fittings
Carbon Steel industrial Pipe Fittings
CS Sanitary Pipe Fittings
Carbon Steel high yield Pipe Fittings
EN 10204 3.1 CS Pipe Fittings
MSS-SP-43 Carbon Steel Pipe Fittings

CS Butweld Pipe Elbow
CS Buttweld Tee
Carbon Steel Buttweld Reducer
ANSI B16.9 Buttweld Pipe Fittings
CS Buttweld Pipe Cap
Carbon Steel Buttweld 45 Degree Elbows
Welded Carbon steel S Pipe Fittings
Seamless Carbon Steel Pipe Fittings
MSS-SP-79 CS Buttweld Pipe Fittings
Carbon Steel Buttweld Grooved Pipe Fittings
Carbon Steel Buttweld Banjo Pipe Fittings
Carbon Steel Irrigation Pipe Fittings
Carbon Steel NPT Pipe Fittings
Carbon Steel oil and gas Pipe Fittings
Carbon Steel performance Pipe Fittings
Carbon Steel ERW Pipe Fittings Manufacturer