Eccentric Reducer
【Technology brief】
Eccentric Reducer
【Materia】
ASTM A234, ASME SA234 WPB , WPBW, WPHY 42, WPHY 46, WPHY 52, WPH 60, WPHY 65 & WPHY 70
【Size】
1/2″NB TO 48″NB IN
Description
Beginning as a Manufacturer and Trading Company in 1991 and expanding to a fully standardized, modern and dynamic company, we HGFF GROUP Co., Ltd have reddened product delivery and customer service through our expeditious shipping service and assistance to our customer at every step. We are manufacturers, suppliers and exporters of Eccentric Reducers that attach together unequal diameter pipes and have their edges parallel to the connecting pipes. The diameter of the upstream side of the fitting is larger than the downstream side, thereby avoiding air bubbles in a pipeline. This  Eccentric Reducer has high utility as they can x pipes of different diameter sizes quickly. Our ANSI B16.9 withstand vibration and have a unique, heat insulation design.
Product Structure
Standard Specication For Buttweld Eccentric Reducer
Dimensions : ASME/ANSI B16.9, ASME B16.28, MSS-SP-43
Size : 1/2″NB TO 48″NB IN
Type : Seamless / ERW / Welded / Fabricated
Thickness : Schedule 5S, 10S, 20S, S10, S20, S30, STD, 40S, S40, S60, XS, 80S, S80, S100, S120, S140, S160, XXS and
etc.
Form : Eccentric Reducer, Pipe Reducer, Pipe Eccentric Reducers, Fitting Eccentric Reducers.
Material & Grades of Buttweld Eccentric Reducer :
Stainless Steel Buttweld Eccentric Reducer :
ASTM A403 WP316/316L, ASTM A403 SA / A 774 WP-S, WP-W, WP-WX 304/304L, ASTM A182 F316L, 304L, DIN
1.4301, DIN1.4306, DIN 1.4401, DIN 1.4404
Duplex & Super Duplex Steel Buttweld Eccentric Reducer :
ASTM A 815, ASME SA 815 UNS NO S31803, S32205. UNS S32750, S32950. Werksto No. 1.4462
Carbon Steel Buttweld Eccentric Reducer :
ASTM A234, ASME SA234 WPB , WPBW, WPHY 42, WPHY 46, WPHY 52, WPH 60, WPHY 65 & WPHY 70.
Low Temperature Carbon Steel Buttweld Eccentric Reducer : ASTM A420 WPL3, A420 WPL6
Alloy Steel Buttweld Eccentric Reducer :
ASTM / ASME A/SA 234 Gr. WP 1, WP 5, WP 9, WP 11, WP 12, WP 22, WP 91
Nickel Alloy Buttweld Eccentric Reducer :
ASTM B336, ASME SB336, Nickel 200 (UNS No. No2200), Nickel 201 (UNS No. N02201), Monel 400 (UNS No.
N04400), Monel 500 (UNS No. N05500), Inconel 800 (UNS No. N08800), Inconel 825 (UNS No. N08825), Inconel
600 (UNS No. N06600), Inconel 625 (UNS No. N06625), Inconel 601 (UNS No. N06601), Hastelloy C 276 (UNS No.
N10276), Alloy 20 (UNS No. N08020), Titanium (Grade I & II), Cupro-Nickel 70/30, CuNi10Fe1Mn, CuNi30Mn1Fe.
ASME B16.9 Buttweld Eccentric Reducer Available Types
Buttweld Eccentric Reducer
Butt Weld Pipe Reducers
ASME B16.9 Butt weld Eccentric Reducer
Steel Reducer Pipe Fittings
Stainless Steel Eccentric Reducer Suppliers
SS Eccentric Reducers
ANSI B16.9 Buttweld Eccentric Reducer Dealer
ASME B16.28 Buttweld Eccentric Pipe Reducer
Exporter
Welded Butt weld Eccentric Reducer Stockholder
Seamless Butt weld Eccentric Reducer Distributors
Carbon Steel Eccentric Reducer
High Quality Eccentric Reducer Manufacturer
ASTM A403 Stainless Steel Eccentric Reducers
Duplex Steel Buttweld Eccentric Reducer
Super Duplex Steel Buttweld Eccentric Reducer
Copper Nickel Eccentric Reducer
High Nickel Alloy Eccentric Reducer
Hastelloy Eccentric Reducer Stockist
Titanium Buttweld Eccentric Reducer
Inconel Butt weld Eccentric Reducer
Technical Parameters
Carbon Steel Pipe Fitting – Eccentric Reducers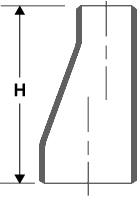 Standard
Extra Strong
Nominal Pipe Size
Length
Weight in Pounds
Nominal Pipe Size
Length
Weight in Pounds
1 1/4 x 1/2
2
0.42
1 1/4 x 1/2
2
0.53
1 x 3/4
2
0.36
1 x 3/4
2
0.43
1 x 1/2
2
0.36
1 x 1/2
2
0.42
3/4 x 1 1/2
1
0.21
3/4 x 1 1/2
1.5
0.25
1 1/2 x 1 1/4
2.5
0.65
1 1/2 x 1 1/4
2.5
0.78
1 1/2 x 1
2.5
0.57
1 1/2 x 1
2.5
0.72
1 1/2 x 3/4
2.5
0.56
1 1/2 x 3/4
2.5
0.65
1 1/2 x 1/2
2.5
0.56
1 1/4 x 1/2
2.5
0.65
1 1/4 x 1
2
0.48
1 1/4 x 1
2
0.57
1 1/4 x 3/4
2
0.42
1 1/4 x 3/4
2
0.53
1 1/4 x 1/2
2
0.42
2 1/2 x 2
3.5
2.1
2 1/2 x 2
3.5
1.6
2 1/2 x 1 1/2
3.5
1.9
2 1/2 x 1 1/2
3.5
1.5
2 1/2 x 1 1/4
3.5
1.7
2 1/2 x 1 1/4
3.5
1.4
2 1/2 x 1
3.5
1.5
2 1/2 x 1
3.5
1.3
2 1/2 x 12 x 1 1/2
3
1.2
2 x 1 1/2
3
0.94
2 x 1 1/4
3
1.1
2 x 1 1/4
3
0.88
2 x 1
3
1
2 x 1
3
0.81
2 x 3/4
3
0.94
2 x 3/4
3
0.74
3 1/2 x 3
4
4.1
3 1/2 x 3
4
2.8
3 1/2 x 2 1/2
4
3.7
3 1/2 x 2 1/2
4
2.7
3 1/2 x 2
4
3.5
3 1/2 x 2
4
2.6
3 1/2 x 1 1/2
4
3.3
3 1/2 x 1 1/2
4
2.6
3 1/2 x 1 1/2
4
3.3
3 1/2 x 1 1/4
4
2.5
3 1/2 x 1 1/4
4
3.3
3 x 2 1/2
3.5
2.2
3 x 2 1/2
3.5
2.8
3 x 2
3.5
2
3 x 2
3.5
2.6
3 x 1 1/2
3.5
1.9
3 x 1 1/2
3.5
2.4
3 x 1 1/4
3.5
1.8
3 x 1 1/4
3.5
2.3
3 x 1
3.5
1.7
3 x 1
3.5
2.2
4 x 3 1/2
4
3.5
4 x 3 1/2
4
4.9
4 x 3
4
3.3
4 x 3
4
4.7
4 x 2 1/2
4
3.2
4 x 2 1/2
4
4.6
4 x 2
4
3.1
4 x 2
4
4.3
4 x 1 1/2
4
3
4 x 1 1/2
4
4.2
4 x 1 1/4
4
3
4 x 1 1/4
4
4.1
4 x 1
4
2.8
4 x 1
4
4
5 x 4
5
5.5
5 x 4
5
7.5
5 x 3 1/2
5
5.3
5 x 3 1/2
5
6.9
5 x 3
5
5.1
5 x 3
5
6.3
5 x 2 1/2
5
4.8
5 x 2 1/2
5
6.1
5 x 2
5
4.7
5 x 2
5
6
6 x 5
5.5
7.6
6 x 5
5.5
11.5
6 x 4
5.5
7.4
6 x 4
5.5
10.7
6 x 3 1/2
5.5
7.1
6 x 3 1/2
5.5
10
6 x 3
5.5
6.9
6 x 3
5.5
9.7
6 x 2 1/2
5.5
6.6
6 x 2 1/2
5.5
9.1
6 x 2
5.5
6.5
6 x 2
5.5
8.6
8 x 6
6
12.3
8 x 6
6
18.8
8 x 5
6
11.5
8 x 5
6
17.6
8 x 4
6
10.8
8 x 4
6
17
8 x 3 1/2
6
10.6
8 x 3 1/2
6
15.9
8 x 3
6
9.8
8 x 3
6
15
10 x 8
7
22.1
10 x 8
8
29.4
10 x 6
7
20.7
10 x 6
7
28.3
10 x 5
7
19.5
10 x 5
7
26.9
10 x 4
7
18.4
10 x 4
7
24.2
12 x 10
8
32.4
12 x 10
8
41.5
12 x 8
8
30.5
12 x 8
8
38.6
12 x 6
8
29.5
12 x 6
8
37.4
12 x 5
8
27.8
12 x 5
8
36.3
12 x 4
8
26.2
12 x 4
8
34.7
14 x 12
13
63.1
14 x 12
13
81
14 x 10
13
61.4
14 x 10
13
76.7
14 x 8
13
60
14 x 8
13
74.6
14 x 6
13
59.2
14 x 6
13
72.3
16 x 14
14
75.4
16 x 14
14
98
16 x 12
14
72.7
16 x 12
14
95.8
16 x 10
14
71.1
16 x 10
14
93.3
16 x 8
14
69.4
16 x 8
14
91.1
16 x 6
14
67.4
16 x 6
14
89.8
18 x 16
15
87.3
18 x 16
15
118
18 x 14
15
86
18 x 14
15
117
18 x 12
15
84.8
18 x 12
15
115
18 x 10
15
83.7
18 x 10
15
113
20 x 18
20
123
20 x 18
20
162
20 x 16
20
121
20 x 16
20
159
20 x 14
20
119
20 x 14
20
157
20 x 12
20
118
20 x 12
20
155
20 x 10
20
117
20 x 10
20
152
24 x 20
20
156
24 x 20
20
201
24 x 18
20
153
24 x 18
20
197
24 x 16
20
150
24 x 16
20
194
24 x 14
20
147
30 x 24
24
315
24 x 12
20
144
30 x 20
24
315
24 x 10
20
141
30 x 18
24
315
30 x 24
24
315
36 x 30
24
379
30 x 20
24
315
36 x 24
24
379
30 x 18
24
315
36 x 20
24
379
36 x 30
24
379
42 x 36
24
443
36 x 24
24
379
42 x 30
24
443
36 x 20
24
379
42 x 24
24
443
42 x 36
24
443
48 x 42
28
525
42 x 30
24
443
48 x 36
28
525
42 x 24
24
443
48 x 30
28
525
48 x 42
28
525
48 x 36
28
525
48 x 30
28
525