ANSI B16.9 Low-Temperature Steel Reducer, LTCS A420 Buttweld Fitting, Low-Temperature A420 WPL6
Buttweld Pipe Fittings, Low-Temperature Carbon Steel ASTM A420 WPL6 Fittings, ANSI B16.9, ANSI B16.28,
MSS-SP-43, or MSS-SP-79 LTCS WPL6 Buttweld Pipe Fitting, Low-Temperature Carbon Steel Welded Fittings,
Manufacturer Of ASTM A420 WPL6 LTCS Buttweld Fittings in MengCun,China
Best Price of WPL6 Low-Temperature Carbon Steel Pipe Cap Exporter, LTCS Grade WPL6 Pipe Elbow,
Stockholder Of LTCS A420 WPL6 Tee, ASME SA420M Low-Temperature Steel WPL6 Stub End Wholesaler, LTCS
WPL6 Pipe Fitting, LTCS WPL6 Seamless Pipe Fittings Traders in China.
Description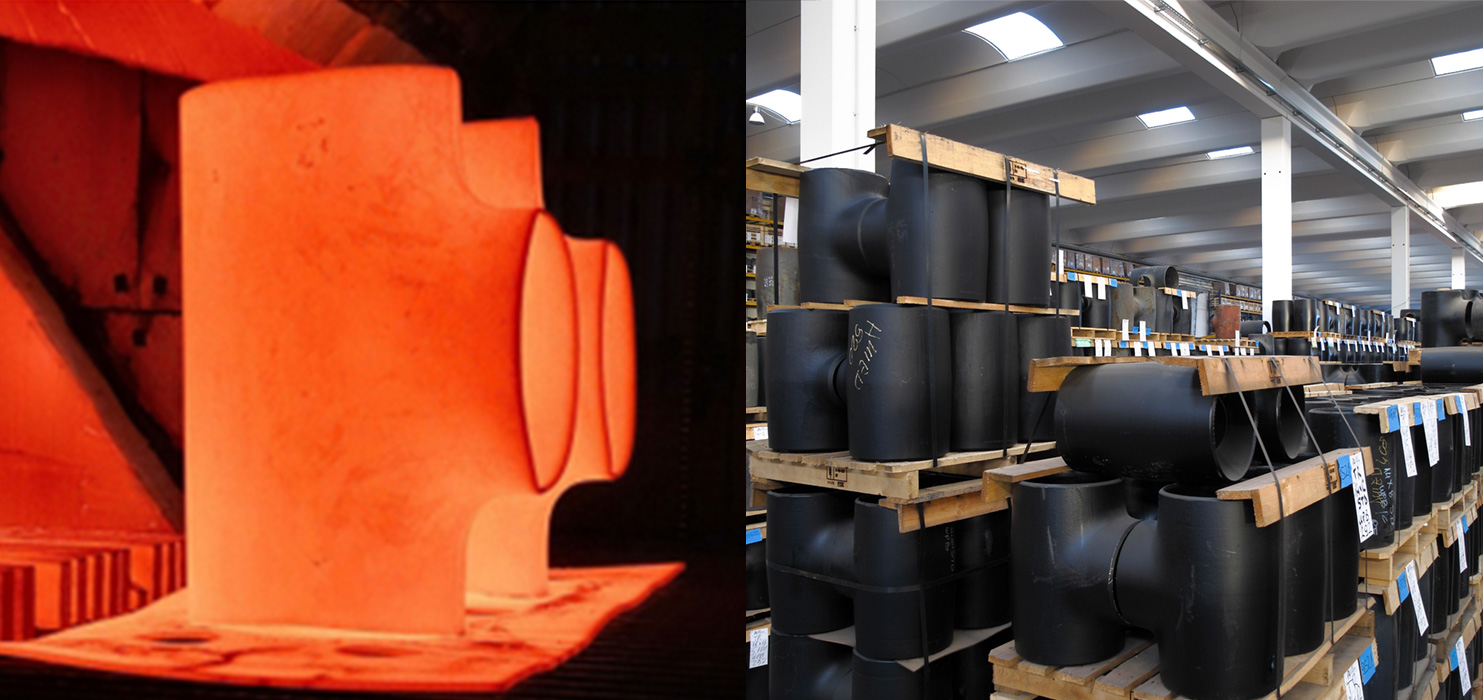 HGFF Group Co., Ltd has given an impetus to several industries during the
last three decades, through our outstanding products and extraordinary services. We invest in premium resources and dependable technology and machinery. As an ISO certified company, we stand by the principles of
quality and safety, and we are disciplined and are devoted to precision. We are manufacturers, suppliers and exporters of LTCS A420 WPL6 Buttweld Fittings that are compliant with ASTM A420 specifications, which demand wrought carbon steel and alloy steel pipe fittings, which are seamless as well as welded, and are amenable in the pressure piping services but at low temperatures. Thereby, our LTCS A420 WPL6 Buttweld Concentric Reducers are the preferred choice in the oil and crude petroleum wells as they can progress effortlessly between pipes, having different diameters, under low pressure. They readily allow the passage of slurries and toxic liquids.
We supply LTCS A420 WPL6 Buttweld Pipe Elbow to the beverage and compressed gas industrial units as they are capable of clamping to a pipe to shield it against wear and tear. Also, We offer a wide range of Low
Temperature Carbon Steel ASTM A420 WPL6 pipe fittings such as LTCS tee, WPL6 LTCS End Pipe Cap, ASTM A420 WPL6 LTCS reducer, A420 WPL6 Low-Temperature Carbon Steel cross, Low-Temperature Carbon Steel A420
WPL6 elbow, LTCS WPL6 stub ends etc.
Specification
Carbon Steel Pipe Bends Specification
| | |
| --- | --- |
| Specifications : | ASTM A420 / ASME SA420 |
| Grades: | A420 WPL3 / A420 WPL6 |
| Dimensions : | ASME/ANSI B16.9, ASME B16.28, MSS-SP-43 |
| Size : | 1/8" NB TO 48" NB.(Seamless & 100% X-Ray Welded, Fabricated) |
| Type : | Seamless / Welded / Fabricated |
| Bending Radius : | R=1D, 2D, 3D, 5D, 6D, 8D, 10D or Custom |
| Thickness : | Sch 5s, Sch 10s, Sch 40s, Sch 80s, Sch 160s, Sch XXS |
Low Temperature ASTM A420 WPL6 Carbon Steel Pipe Fittings
Seamless/ Welded 100% Radiography Tested
A420 WPL6 Low Temperature Carbon Steel Pipe Fittings Types
Size
Low Temperature Carbon Steel ASTM A420 WPL6 45° Elbow
ASTM A420 WPL6 Low Temperature Carbon Steel Tees
LTCS ASTM A420 WPL6 Elbow – Long Radius
Low Temperature Carbon Steel ASTM A420 WPL6 Stub Ends
LTCS ASTM A420 WPL6 Elbow – Short Radius
ASTM A420 WPL6 Low Temperature Carbon Steel Cross
Sizes 1/2″ – 48″
Low Temperature Carbon Steel ASTM A420 WPL6 Reducing Elbow
Low Temperature Carbon Steel ASTM A420 WPL6 Reducing Cross
ASTM A420 WPL6 Low Temperature Carbon Steel Fabricated Tee
LTCS ASTM A420 WPL6 End Cap
ASTM A420 WPL6 Low Temperature Carbon Steel Reducer
Low Temperature Carbon Steel ASTM A420 WPL6 Seamless Fittings
LTCS ASTM A420 WPL6 Concentric Reducer
ASTM A420 WPL6 Low Temperature Carbon Steel Pipe Nipple
Low Temperature Carbon Steel ASTM A420 WPL6 Eccentric Reducer
LTCS ASTM A420 WPL6 5D Elbow
ASTM A420 WPL6 Low Temperature Carbon Steel 3D Elbow
LTCS ASTM A420 WPL6 Welded Pipe Fittings
Application
LTCS WPL6 Buttweld Pipe Fittings Application
LTCS ASTM A420 WPL6 Pipe Fittings are known to deliver exceptional performance and are generally developed
for meeting the demands. We offer a broad range of LTCS ASTM A420 WPL6 Buttweld Pipe Fittings through a
the worldwide network of stock-keeping branches. These Low-Temperature ASTM A420 WPL6 Buttweld Fittings is use
in various industries like :
People Also Searched For
A Wide Range Of the Best Quality Low-Temperature Carbon Steel Pipe Fittings, Carbon Steel Fittings, a420 WPL6
elbow price, LTCS pipe fittings price list, Astm a420 wpl6, Astm a420 wpl6 pdf, a420 wpl6 vs a234 WPB, wpl6
means, Astm a420 chemical composition, a420 wpl6 meaning, wpl6 fittings meaning, Astm a420 wpl3, a420 wpl6
 LTCS WPL6 Buttweld Pipe Fitting uses in Oil and Gas Pipeline
 ASTM A420 WPL6 Buttweld Pipe Fittings uses in Chemical Industry
 Grade WPL6 LTCS Pipe Fittings uses in Plumbing
 LTCS ASTM A420 WPL6 Buttweld Pipe Fittings uses in Heating
 ASTM A420 WPL6 Pipe Fittings uses in Water Supply Systems
 LTCS ASTM A420 WPL6 Buttweld Fittings uses in Power Plant
 LTCS WPL6 Buttweld Pipe Fittings uses in Paper & Pulp Industry
 WPL6 LTCS Buttweld Pipe Fittings uses in General Purpose Applications
 ASME SA420 LTCS WPL6 Pipe Fittings uses in Fabrication Industry
 LTCS WPL6 Buttweld Fittings uses in Food Processing Industry
 Low-Temperature WPL6 Buttweld Pipe Fittings uses in Structural Pipe
Type
Low-Temperature Carbon Steel Pipe Bend Available Types & Shapes
| | |
| --- | --- |
| Low Temperature Carbon Steel A420 WPL6 Pipe Elbow | Low Temperature Carbon Steel Buttweld Tee |
| LTCS A420 WPL6 Pipe Fittings | LTCS WPL6 Buttweld Pipe Fittings |
| ASM A420 WPL6 LTCS Buttweld Reducer | ANSI WPL6 Low Temperature Carbon Steel Pipe Fittings |
| LTCS A420 WPL6 Stubends | ASTM A420 WPL6 Pipe Fittings |
| Low Temperature Carbon Steel A420 WPL6 Seamless Pipe Fittings | LTCS A420 WPL6 Welded Pipe Fittings |
| LTCS Grade WPL6 Pipe Tee | Low Temperature Carbon Steel ASTM A420 WPL6 Cross |
| Low Temperature Carbon Steel WPL6 Butt weld Fittings | Steel WPL6 Pipe End Cap |
| LTCS ASTM A420 WPL6 45deg.Elbow | A420 WPL6 90deg. LR Elbow |
| ANSI B16.9 ASTM A420 WPL6 Buttweld Fitting | A420 WPL6 End Pipe Cap |
| LTCS WPL6 Butt weld Reducing Nipple | LTCS WPL6 Short Radius Elbow |
| ASTM A420 WPL6 Low Temperature Welded Pipe Fittings | Low Temperature Carbon Steel ASME SA420 WPL6 Pipe Fittings |
ASTM A420 WPL6 Carbon Steel Pipe Fittings In Ready Stock
LTCS WPL6 Pipe Fitting
A420 WPL6 Carbon Steel Buttweld Fittings
LTCS A420-WPL6 Buttweld Pipe Fittings
ASTM A420 Gr. WPL6 Carbon Steel Buttweld Tee
ASME SA420 Grade WPL6 Carbon Steel Buttweld Reducer
CS A420 WPL6 Buttweld 90 Degree Elbows
LTCS A420-WPL6 Pipe Fittings
ASTM A420 Gr. WPL6 piping fitting
LTCS A420 WPL6 large Pipe Fittings
A420 WPL6 specialty Pipe Fittings
ASME B16.9 A420 WPL6 Carbon Steel Pipe Fittings
LTCS A420 WPL6 Galvanized Pipe Fittings
Low Temperature Carbon Steel ASTM A420 Gr. WPL6 industrial Pipe Fittings
LTCS A420 WPL6 Sanitary Pipe Fittings
Low Temperature Carbon Steel ASME SA420 WPL6 high yield Pipe Fittings
EN 10204 3.1 LTCS A420-WPL6 Pipe Fittings
ASTM / ASME SA 420 WPL6 LTCS Pipe Fittings
MSS-SP-43 Low Temperature Carbon Steel ASTM A420 Gr. WPL6 Pipe Fittings

LTCS A420 WPL6 Butweld Pipe Elbow
A420 WPL6 CS Buttweld Tee
ASTM A420 Gr. WPL6 Carbon Steel Reducer
A420 WPL6 ANSI B16.9 Pipe Fittings
CS A420-WPL6 Pipe Cap
LTCS ASTM A420 Gr. WPL6 45 Degree Elbows
Welded A420 WPL6 Carbon steel S Pipe Fittings
Seamless A420 WPL6 Carbon Steel Pipe Fittings
MSS-SP-79 CS A420-WPL6 Buttweld Pipe Fittings
Carbon Steel ASTM A420 Gr. WPL6 grooved Pipe Fittings
ASTM A420 WPL6 banjo Pipe Fittings
WPL6 Low Temperature Carbon Steel irrigation Pipe Fittings
LTCS A420 WPL6 Pipe Fittings
ASME SA420 WPL6 Oil Pipe Fittings
ASTM A420 Gr. WPL6 oil and gas Pipe Fittings
LTCSl WPL6 performance Pipe Fittings
A420 WPL6 Carbon Steel ERW Pipe Fittings Manufacturer