Ring Type Joint Flanges (RTJ)
【Technology brief】
ASME B16.5 Raised Faced Ring Type Joint Flanges
【Materia】
ASTM / ASME A/SA 105 ASTM / ASME A 350 , ASTM A 181 LF 2 / A516 Gr.70 A36, A694 F42, F46, F52, F60, F65, F706
【Size】
1/2″ (15 NB) to 48″ (1200NB)
Description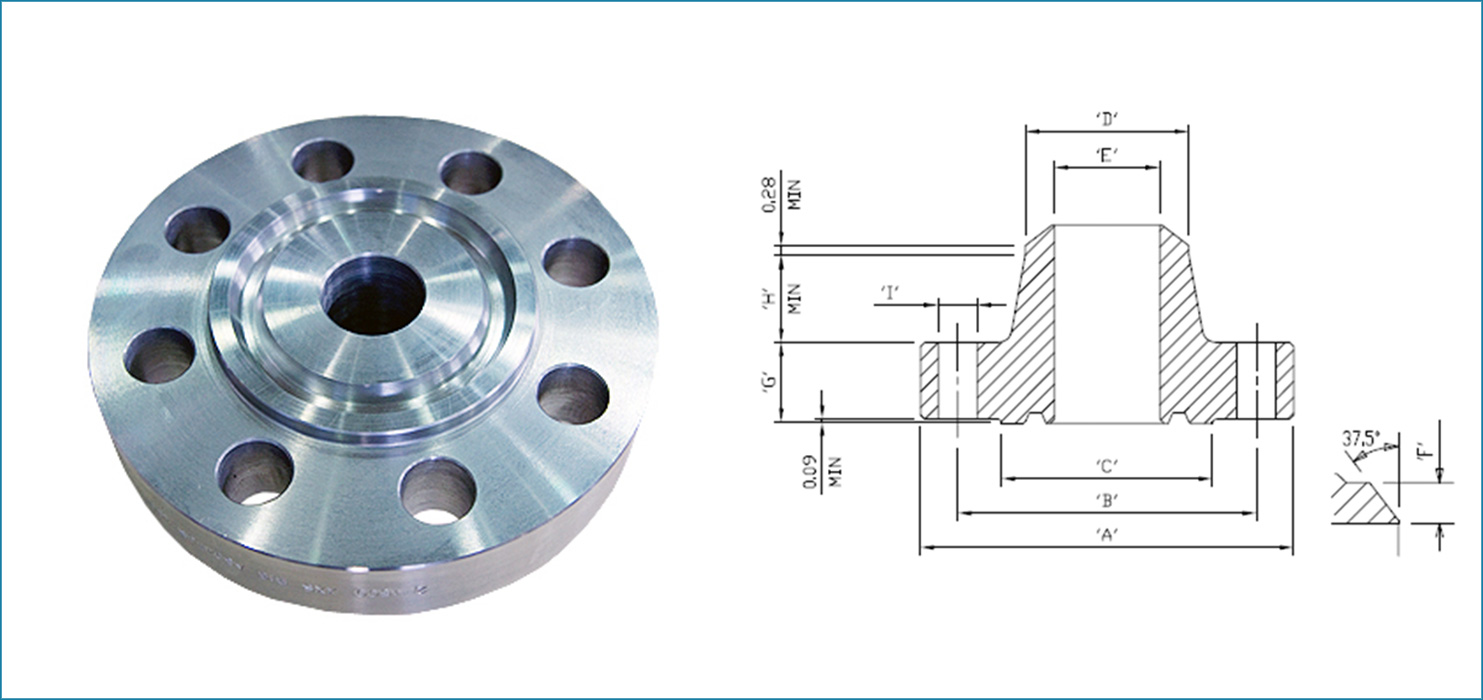 We, HGFF Group Co., Ltd. extends a product line that is impeccable and unique with a complete customer satisfaction experience. We are manufacturers, suppliers, and exporters of a range of Ring Type Joint Flanges
(RTJ) that are best-in-class. A Ring type joint flange(RTJ) is a machined metallic ring with a deep groove cut into its face. This groove rests a metal ring which gets compressed when the connecting bolts of the flange are tightened. This compression results in a leak-proof, close-fitting seal on the pipe or connection. Stainless Steel Ring type Joint Flanges are classically used in high-pressure and high-temperature services, while Carbon Steel Ring type Joint Flanges are spill-proof.
Product Structure
Standard Specification For Ring Type Joint Flanges
Dimensions : ANSI B16.5, ANSI B16.47 Series A & B, MSS SP44, ASA, API-605, AWWA, Custom Drawings
Size : 1/2″ (15 NB) to 48″ (1200NB)
Class : 150 LBS, 300 LBS, 600 LBS, 900 LBS, 1500 LBS, 2500 LBS, DIN Standard ND-6,10, 16, 25, 40 Etc.
DIN : DIN2527, DIN2566, DIN2573, DIN2576, DIN2641, DIN2642, DIN2655, DIN2656, DIN2627, DIN2628, DIN2629,
DIN 2631, DIN2632, DIN2633, DIN2634, DIN2635, DIN2636,DIN2637, DIN2638, DIN2673
BS : BS4504 , BS4504, BS1560, BS10
Flange Face Type : Flate Face (FF), Raised Face (RF), Ring Type Joint (RTJ)Material & Grades of Ring Type Joint Flanges (RTJ) :
Stainless Steel Ring Type Joint Flanges :
ASTM A 182, A 240 F 304, 304L, 304H, 316, 316L, 316Ti, 310, 310S, 321, 321H, 317, 347, 347H, 904L
Duplex & Super Duplex Steel Ring Type Joint Flanges :
ASTM / ASME A/SA 182 F 44, F 45, F51, F 53, F 55, F 60, F 61
Carbon Steel Ring Type Joint Flanges :
ASTM / ASME A/SA 105 ASTM / ASME A 350 , ASTM A 181 LF 2 / A516 Gr.70 A36, A694 F42, F46, F52, F60, F65, F706
Low Temperature Carbon Steel Ring Type Joint Flanges : ASTM A350, LF2, LF3
Alloy Steel Ring Type Joint Flanges :
ASTM / ASME A/SA 182 & A 387 F1, F5, F9, F11, F12, F22, F91
Copper Alloy Steel Ring Type Joint Flanges : ASTM SB 61 , SB62 , SB151 , SB152 UNS No. C 70600 (Cu-Ni 90/10),
C 71500 (Cu-Ni 70/30), UNS No. C 10100, 10200, 10300, 10800, 12000, 12200
Nickel Alloy Ring Type Joint Flanges :
ASTM SB564, SB160, SB472, SB162 Nickel 200 (UNS No. N02200), Nickel 201 (UNS No. N02201), Monel 400 (UNS
No. N04400), Monel 500 (UNS No. N05500), Inconel 800 (UNS No. N08800), Inconel 825 (UNS No. N08825), Inconel
600 (UNS No. N06600), Inconel 625 (UNS No. N06625), Inconel 601 (UNS No. N06601), Hastelloy C 276 (UNS No.
N10276), Alloy 20 (UNS No. N08020)
ASME B16.5 Raised Faced Ring Type Joint Flanges Available Types
| | |
| --- | --- |
| ANSI B16.5 Ring Type Joint Flanges | Raised Face Ring Type joint Flange |
| RTJ Ring Type joint Flange | ASME B16.5 RTJ Flange Dimensions |
| ASME B16.5 Ring Type Joint Flanges | ANSI B16.5 Class 150 Ring Type joint Flanges |
| Class 150 Ring Type Joint Flanges | Flat Face Ring Type joint flange |
| Ring Type Joint Flange class 900 | Ring Type joint Flange Class 600 |
| ANSI B16.5 class 300 Ring Type Joint Flange | ANSI 150 Ring Type joint Flange |
| Slip On Ring Type joint flange | High Quality Ring Type joint Flanges |
| Weld Neck Ring Type joint | ANSI Ring Type Joint Flange |
| Ring Type joint Blind Flange | DIN Ring Type joint Flanges |
Technical Parameters
ANSI/ASME B16.5 RTJ FLANGE DIMENSIONS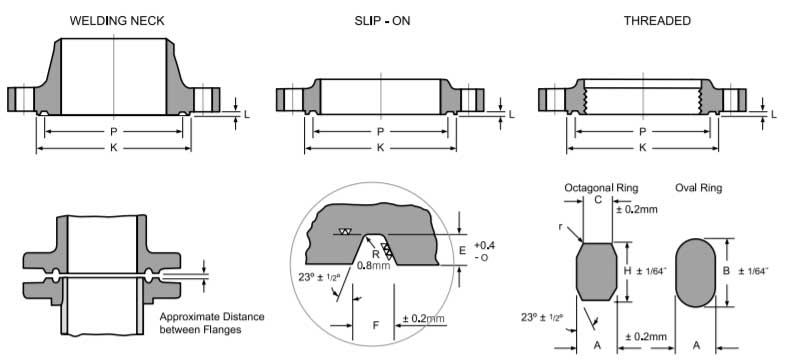 Class 150 Ring Type Joint Flange Dimensions
Nominal Pipe Size
Pitch Diam. of Ring and Groove
Width of Ring
HEIGHT OF RING
Width of Flat on Octagonal Rings
Width of Groove
Depth of Groove
Diameter of Raised Face for Ring Joint or Lapped
Ring Number
Approximate Distande Between Flange of Ring Joints When Ring is Compressed
OVal
Octagonal
P
A
B
H
C
F
E(L*)
K(Min)
1
47.6
8
14.3
12.7
5.2
8.7
6.4
63.5
R15
4.1
1 1/4
57.2
8
14.3
12.7
5.2
8.7
6.4
73.2
R17
4.1
1 1/2
65.1
8
14.3
12.7
5.2
8.7
6.4
82.6
R19
4.1
2
82.6
8
14.3
12.7
5.2
8.7
6.4
101.6
R22
4.1
2 1/2
101.6
8
14.3
12.7
5.2
8.7
6.4
120.7
R25
4.1
3
114.3
8
14.3
12.7
5.2
8.7
6.4
133.4
R29
4.1
3 1/2
131.8
8
14.3
12.7
5.2
8.7
6.4
153.9
R33
4.1
4
149.2
8
14.3
12.7
5.2
8.7
6.4
171.5
R36
4.1
5
171.5
8
14.3
12.7
5.2
8.7
6.4
193.5
R40
4.1
6
193.7
8
14.3
12.7
5.2
8.7
6.4
218.9
R43
4.1
8
247.7
8
14.3
12.7
5.2
8.7
6.4
273.1
R48
4.1
10
304.8
8
14.3
12.7
5.2
8.7
6.4
330.2
R52
4.1
12
381
8
14.3
12.7
5.2
8.7
6.4
406.4
R56
4.1
14
396.9
8
14.3
12.7
5.2
8.7
6.4
425.5
R59
3
16
454
8
14.3
12.7
5.2
8.7
6.4
482.6
R64
3
18
517.5
8
14.3
12.7
5.2
8.7
6.4
546.1
R68
3
20
558.8
8
14.3
12.7
5.2
8.7
6.4
596.9
R72
3
24
673.1
8
14.3
12.7
5.2
8.7
6.4
711.2
R76
3
Class 300 / 400 / 600 Ring Type Joint Flange Dimensions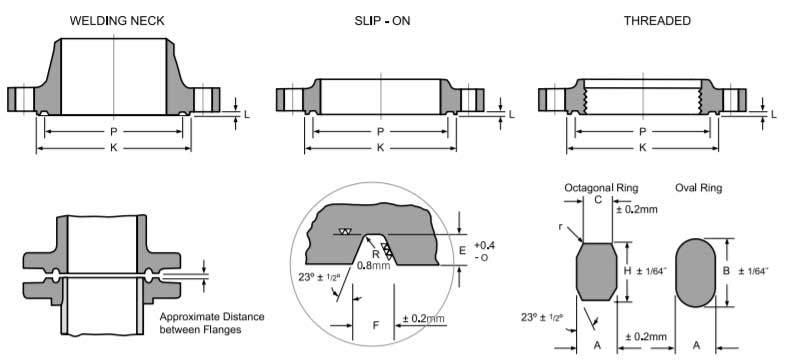 Nominal Pipe Size

 

Pitch Diam. of Ring and Groove

 

Width of Ring

HEIGHT OF RING

 

Width of Flat on Octagonal Rings

 

Width of Groove

 

Depth of Groove

 

Diameter of Raised Face for Ring Joint or Lapped

 

Ring Number

 

Approximate Distande Between Flange of Ring Joints When Ring is Compressed

 

OVal

 

Octagonal

P
A
B
H
C
F
E(L*)

K(Min)

Class 300
Class 400
Class 600

1/2

34.1

6.4
11.1
9.5
4.3
7.1
5.6

50.8

R11
3.0
–
3.0

3/4

42.9

8.0
14.3
12.7
5.2
8.7
6.4

63.5

R13
4.1
–
4.1
1

50.8

8.0
14.3
12.7
5.2
8.7
6.4

69.9

R16
4.1
–
4.1

1 1/4

60.3

8.0
14.3
12.7
5.2
8.7
6.4

79.5

R18
4.1
–
4.1

1 1/2

68.3

8.0
14.3
12.7
5.2
8.7
6.4

90.4

R20
4.1
–
4.1
2

82.6

11.1
17.5
15.9
7.7
11.9
7.9

108.0

R23
5.6
–
4.8

2 1/2

101.6

11.1
17.5
15.9
7.7
11.9
7.9

127.0

R26
5.6
–
4.8
3

123.8

11.1
17.5
15.9
7.7
11.9
7.9

146.1

R31
5.6
–
4.8

3 1/2

131.8

11.1
17.5
15.9
7.7
11.9
7.9

158.8

R34
5.6
–
4.8
4

149.2

11.1
17.5
15.9
7.7
11.9
7.9

174.8

R37
5.6
5.6
4.8
5

181.0

11.1
17.5
15.9
7.7
11.9
7.9

209.6

R41
5.6
5.6
4.8
6

211.2

11.1
17.5
15.9
7.7
11.9
7.9

241.3

R45
5.6
5.6
4.8
8

269.9

11.1
17.5
15.9
7.7
11.9
7.9

301.8

R49
5.6
5.6
4.8
10

323.9

11.1
17.5
15.9
7.7
11.9
7.9

355.6

R53
5.6
5.6
4.8
12

381.0

11.1
17.5
15.9
7.7
11.9
7.9

412.8

R57
5.6
5.6
4.8
14

419.1

11.1
17.5
15.9
7.7
11.9
7.9

457.2

R61
5.6
5.6
4.8
16

469.9

11.1
17.5
15.9
7.7
11.9
7.9

508.0

R65
5.6
5.6
4.8
18

533.4

11.1
17.5
15.9
7.7
11.9
7.9

574.8

R69
5.6
5.6
4.8
20

584.2

12.7
19.1
17.5
8.7
13.5
9.5

635.0

R73
5.6
5.6
4.8
24

692.2

15.9
22.2
20.7
10.5
16.7
11.1

749.3

R77
6.4
6.4
5.6
Class 900 Ring Type Joint Flange Dimensions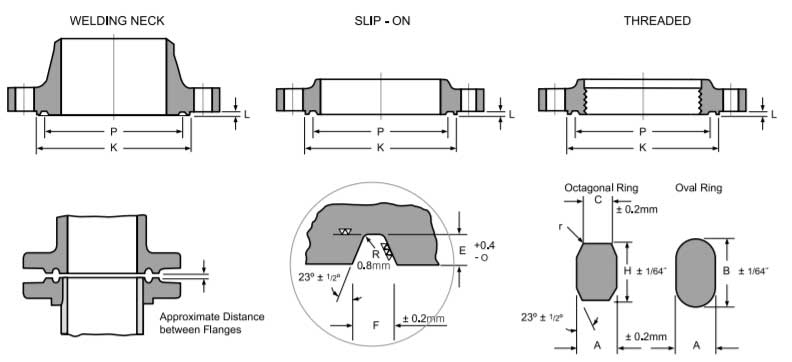 Nominal Pipe Size

 

Pitch Diam. of Ring and Groove

 

Width of Ring

HEIGHT OF RING

 

Width of Flat on Octagonal Rings

 

Width of Groove

 

Depth of Groove

 

Diameter of Raised Face for Ring Joint or Lapped

 

Ring Number

Approximate Distande Between Flange of Ring Joints When Ring is Compressed

 

OVal

 

Octagonal

P
A
B
H
C
F

E(L*)

K(Min)

3
123.8
11.1
17.5
15.9
7.7
11.9
7.9

155.4

R31

4.1

4
149.2
11.1
17.5
15.9
7.7
11.9
7.9

180.8

R37

4.1

5
181.0
11.1
17.5
15.9
7.7
11.9
7.9

215.9

R41

4.1

6
211.2
11.1
17.5
15.9
7.7
11.9
7.9

241.3

R45

4.1

8
269.9
11.1
17.5
15.9
7.7
11.9
7.9

307.8

R49

4.1

10
323.9
11.1
17.5
15.9
7.7
11.9
7.9

362.0

R53

4.1

12
381.0
11.1
17.5
15.9
7.7
11.9
7.9

419.1

R57

4.1

14
419.1
15.9
22.2
20.7
10.5
16.7
11.1

466.9

R62

4.1

16
469.9
15.9
22.2
20.7
10.5
16.7
11.1

523.7

R66

4.1

18
533.4
19.1
25.4
23.8
11.1
19.8
12.7

593.9

R70

4.8

20
584.2
19.1
25.4
23.8
12.3
19.8
12.7

647.7

R74

4.8

24
692.2
25.4
33.4
31.8
17.3
27.0
15.9

771.7

R78

5.6
Class 1500 Ring Type Joint Flange Dimensions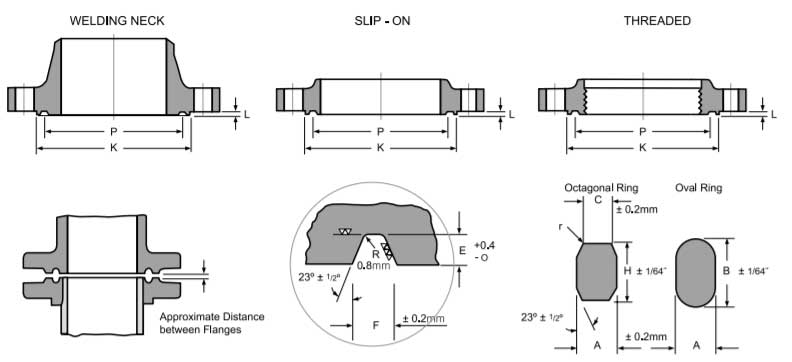 Nominal Pipe Size

 

Pitch Diam. of Ring and Groove

 

Width of Ring

HEIGHT OF RING

 

Width of Flat on Octagonal Rings

 

Width of Groove

 

Depth of Groove

 

Diameter of Raised Face for Ring Joint or Lapped

 

Ring Number

Approximate Distande Between Flange of Ring Joints When Ring is Compressed

 

OVal

 

Octagonal

P
A
B
H
C
F
E(L*)
K(Min)
1/2
39.7
8.0
14.3
12.7
5.2
8.7
6.4
60.5
R12
4.1
3/4
44.5
8.0
14.3
12.7
5.2
8.7
6.4
66.8
R14
4.1
1
50.8
8.0
14.3
12.7
5.2
8.7
6.4
71.4
R16
4.1
1 1/4
60.3
8.0
14.3
12.7
5.2
8.7
6.4
81.0
R18
4.1
1 1/2
68.3
8.0
14.3
12.7
5.2
8.7
6.4
92.2
R20
4.1
2
95.3
11.1
17.5
15.9
7.7
11.9
7.9
124.0
R24
3.0
2 1/2
108.0
11.1
17.5
15.9
7.7
11.9
7.9
136.7
R27
3.0
3
136.5
11.1
17.5
15.9
7.7
11.9
7.9
168.4
R35
3.0
4
161.9
11.1
17.5
15.9
7.7
11.9
7.9
193.8
R39
3.0
5
193.7
11.1
17.5
15.9
7.7
11.9
7.9
228.6
R44
3.0
6
211.2
12.7
19.1
17.5
8.7
13.5
9.5
247.7
R46
3.0
8
269.9
15.9
22.2
20.7
10.5
16.7
11.1
317.5
R50
4.1
10
323.9
15.9
22.2
20.7
10.5
16.7
11.1
371.6
R54
4.1
12
381.0
22.2
28.6
27.0
14.8
23.0
14.3
438.2
R58
4.8
14
419.1
25.4
33.4
31.8
17.3
27.0
15.9
489.0
R64
5.6
16
469.9
28.6
36.5
34.9
19.8
30.2
17.5
546.1
R67
7.9
18
533.4
28.6
36.5
34.9
19.8
30.2
17.5
612.9
R71
7.9
20
584.2
31.8
39.7
38.1
22.3
33.4
17.5
673.1
R75
9.7
24
692.2
34.9
44.5
41.3
24.8
36.5
20.6
793.8
R79
11.2
Class 2500 Ring Type Joint Flange Dimensions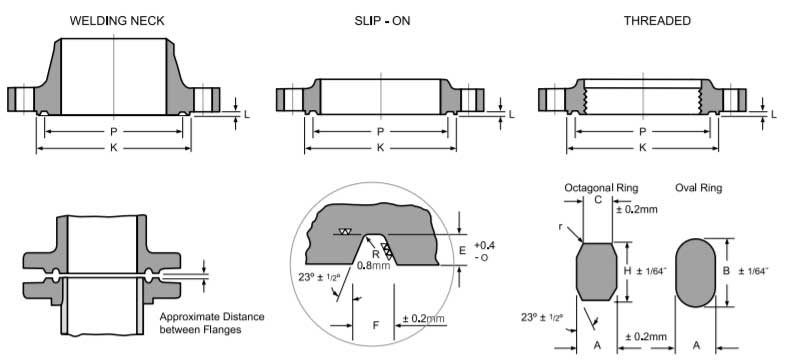 Nominal Pipe Size

 

Pitch Diam. of Ring and Groove

 

Width of Ring

HEIGHT OF RING

 

Width of Flat on Octagonal Rings

 

Width of Groove

 

Depth of Groove

 

Diameter of Raised Face for Ring Joint or Lapped

 

Ring Number

Approximate Distande Between Flange of Ring Joints When Ring is Compressed

 

OVal

 

Octagonal

P
A
B
H
C
F
E(L*)
K(Min)
1/2
42.9
8.0
14.3
12.7
5.2
8.7
6.4
65.0
R13

4.1

3/4
50.8
8.0
14.3
12.7
5.2
8.7
6.4
73.2
R16

4.1

1
60.3
8.0
14.3
12.7
5.2
8.7
6.4
82.6
R18

4.1

1 1/4
72.2
11.1
17.5
15.9
7.7
11.9
7.9
101.6
R21

3.0

1 1/2
82.6
11.1
17.5
15.9
7.7
11.9
7.9
114.3
R23

3.0

2
101.6
11.1
17.5
15.9
7.7
11.9
7.9
133.4
R26

3.0

2 1/2
111.1
12.7
19.1
17.5
8.7
13.5
9.5
149.4
R28

3.0

3
127.0
12.7
19.1
17.5
8.7
13.5
9.5
168.4
R32

3.0

4
157.2
15.9
22.2
20.7
10.5
16.7
11.1
203.2
R38

4.1

5
190.5
19.1
25.4
23.8
12.3
19.8
12.7
241.3
R42

4.1

6
228.6
19.1
25.4
23.8
12.3
19.8
12.7
279.4
R47

4.1

8
279.4
22.2
28.6
27.0
14.8
23.0
14.3
339.9
R51

4.8

10
342.9
28.6
36.5
34.9
19.8
30.2
17.5
425.5
R55

6.4

12
406.4
31.8
39.7
38.1
22.3
33.4
17.5
495.3
R60

7.9
Ring Type Joint Flange Pressure Ratings
Flanges pressure rating in psig for RTJ Ring Type Joint Flange ASME

Temperature (F°)
150#
300#
400#
600#
900#
1500#
2500#
-20 to 100
285
740
985
1480
2220
3705
6170
200
260
680
905
1360
2035
3395
5655
300
230
655
870
1310
1965
3270
5450
400
200
635
845
1265
1900
3170
5280
500
170
605
805
1205
1810
3015
5025
600
140
570
755
1135
1705
2840
4730
650
125
550
730
1100
1650
2745
4575
700
110
530
710
1060
1590
2655
4425
750
95
505
675
1015
1520
2535
4230
800
80
410
550
825
1235
2055
3430
850
65
320
425
640
955
1595
2655
900
50
230
305
460
690
1150
1915
950
35
135
185
275
410
685
1145
1000
20
85
115
170
255
430
715
Application
ANSI B16.5 Ring Type Joint Flanges Application
ASME B16.5 Ring Type Joint Flanges are known to deliver exceptional performance and are generally developed
for meeting the demands. We oer a broad range of Flat Faced Ring Type Joint Flanges through a worldwide
network of stock-keeping branches. These Ring Type Joint Flange is use in various industries like :
 Stainless Steel Ring Type Joint Flanges uses in Oil and Gas Pipeline
 Ring Type Joint Raised Face Flanges uses in Chemical Industry
 Alloy Steel RTJ Flanges uses in Plumbing
 Flat Faced Ring Type Joint Flanges uses in Heating
 Ring Type Joint Pipe Flanges uses in Water Supply Systems
 ANSI B16.5 Ring Type Joint Forged Flanges uses in Power Plant
 RTJ Flanges uses in Paper & Pulp Industry
 Ring Type Joint Flange uses in General Purpose Applications
 Steel Ring Type Joint Flanges uses in Fabrication Industry
 RTJ Flange uses in Food Processing Industry
 Ring Type Joint Flanges uses in Structural Pipe