Socket Weld Flanges (SWRF)
【Technology brief】
ASME B16.5 Raised Faced Socket weld Flanges
【Materia】
ASTM / ASME A/SA 105 ASTM / ASME A 350 , ASTM A 181 LF 2 / A516 Gr.70 A36, A694 F42, F46, F52, F60, F65, F706
【Size】
1/2″ (15 NB) to 48″ (1200NB)
Description
HGFF Group Co., Ltd. (HGFF), the ISO enterprise known for its innovative products in China and abroad, specializing in on – time delivery. We deliver our premium quality products to all our valued customers in the shortest time span. Socket Weld Flanges (SWRF) are counter-bored i.e. the bore of the Flange and pipe, both are same, thereby providing a good ow of the product
through the pipe. Initially used for small-sized high-pressure pipes, our SMO 254 Socket Weld Flanges are now used in high-pressure systems too. Our Stainless Steel Socket Weld Flanges are oxidation resistant and
promote better weldability and fabricability. We seek to offer ANSI B16.5 Carbon Steel Socket Weld Flanges that have excellent stress corrosion cracking resistance to the LNG, seawater and mining industry.
Product Structure
Standard Specication For Buttweld Long Radius Pipe Elbow
Dimensions : ANSI B16.5, ANSI B16.47 Series A & B, MSS SP44, ASA, API-605, AWWA, Custom Drawings
Size : 1/2″ (15 NB) to 48″ (1200NB)
Class : 150 LBS, 300 LBS, 600 LBS, 900 LBS, 1500 LBS, 2500 LBS, DIN Standard ND-6,10, 16, 25, 40 Etc.
DIN : DIN2527, DIN2566, DIN2573, DIN2576, DIN2641, DIN2642, DIN2655, DIN2656, DIN2627, DIN2628, DIN2629,
DIN 2631, DIN2632, DIN2633, DIN2634, DIN2635, DIN2636,DIN2637, DIN2638, DIN2673
BS : BS4504 , BS4504, BS1560, BS10
Flange Face Type : Flate Face (FF), Raised Face (RF), Ring Type Joint (RTJ)
Material & Grades of Socket weld Flanges (SWRF) :
Stainless Steel Socket weld Flanges :
ASTM A 182, A 240 F 304, 304L, 304H, 316, 316L, 316Ti, 310, 310S, 321, 321H, 317, 347, 347H, 904L
Duplex & Super Duplex Steel Socket weld Flanges :
ASTM / ASME A/SA 182 F 44, F 45, F51, F 53, F 55, F 60, F 61
Carbon Steel Socket weld Flanges :
ASTM / ASME A/SA 105 ASTM / ASME A 350 , ASTM A 181 LF 2 / A516 Gr.70 A36, A694 F42, F46, F52, F60, F65, F706
Low Temperature Carbon Steel Socket weld Flanges : ASTM A350, LF2, LF3
Alloy Steel Socket weld Flanges :
ASTM / ASME A/SA 182 & A 387 F1, F5, F9, F11, F12, F22, F91
Copper Alloy Steel Socket weld Flanges : ASTM SB 61 , SB62 , SB151 , SB152 UNS No. C 70600 (Cu-Ni 90/10), C
71500 (Cu-Ni 70/30), UNS No. C 10100, 10200, 10300, 10800, 12000, 12200
Nickel Alloy Socket weld Flanges :
ASTM SB564, SB160, SB472, SB162 Nickel 200 (UNS No. N02200), Nickel 201 (UNS No. N02201), Monel 400 (UNS
No. N04400), Monel 500 (UNS No. N05500), Inconel 800 (UNS No. N08800), Inconel 825 (UNS No. N08825), Inconel
600 (UNS No. N06600), Inconel 625 (UNS No. N06625), Inconel 601 (UNS No. N06601), Hastelloy C 276 (UNS No.
N10276), Alloy 20 (UNS No. N08020)
ASME B16.5 Raised Faced Socket weld Flanges Available Types
| | |
| --- | --- |
| Socket weld Raised Face Flange | Raised Faced Socket weld Flanges |
| ANSI B16.5 Socket weld Flanges | Socket weld Flange Dimensions |
| ASME B16.5 SWRF Flanges | ANSI B16.5 Class 150 Socket weld Flanges |
| Stainless Steel Socket weld Flanges | Suppliers SS Socket weld Flange |
| Socket weld Plate Flanges Dealer | ASME B16.47 Series A and B SWRF Flanges Exporter |
| ANSI B16.5 class 150 SWRF Flange Stockholder | ANSI 150 Socket weld Flange Distributors |
| Carbon Steel Socket weld Flange | High Quality SWRF Flanges Manufacturer |
| ASTM A182 Stainless Steel SWRF Flange |  Duplex Steel Socket weld Flange |
| Super Duplex Steel Socket weld Forged Flange | Copper Nickel Socket weld Pipe Flanges |
| High Nickel Alloy SWRF Flanges | Hastelloy Flat Faced Socket weld Flanges Stockist |
| Titanium ASME B16.47 Series A and B SWRF Flanges | Inconel Socket weld Flanges |
Technical Parameters
Dimensions Socket Weld Flanges
 & 

Stud Bolts ASME B16.5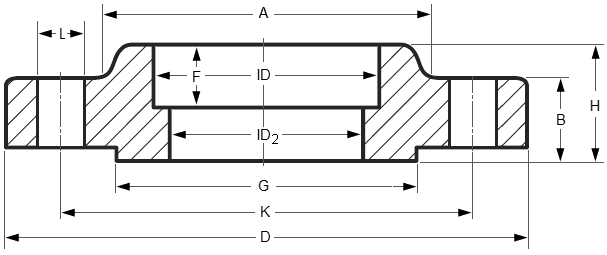 NPS 1/2 – ID = 22.3 – F = 9.5
CL
150
300
600
900
1500
2500
DIA
A
30
38
38
…
38
…
DIA
D
90
95
95
…
120
…
THK
B
9.6
12.7
14.3
…
22.3
…
11.2
14.3
20.7
…
28.7
…
DIA
G
35.1
35.1
35.1
…
35.1
…
DIA
K
60.3
66.7
66.7
…
82.6
…
H
14
21
22
…
32
…
15.6
22.6
28.4
…
38.4
…
NO.
L
4
4
4
…
4
…
DIA
L
15.9
15.9
15.9
…
22.2
…
Stud Bolts Diameter x Length
DIA
(in)
1/2
1/2
1/2
…
3/4
…
Len
mm
55
65
75
…
110
…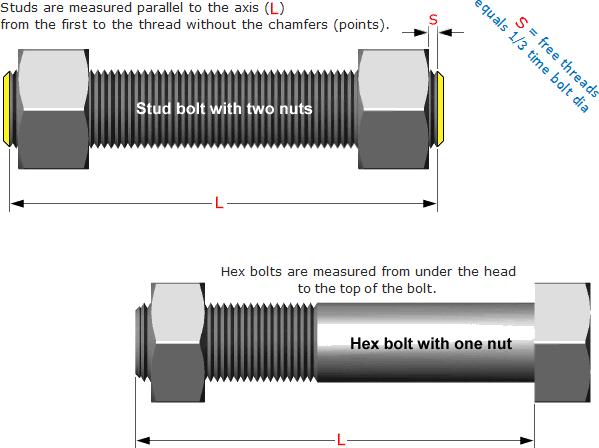 Application
ANSI B16.5 Socket weld Flanges Application
ASME B16.5 Socket weld Flanges are known to deliver exceptional performance and are generally developed for
meeting the demands. We oer a broad range of Flat Faced Socket weld Flanges through a worldwide network of
stock-keeping branches. These Socket weld Flange is use in various industries like :
 Stainless Steel Socket weld Flanges uses in Oil and Gas Pipeline
 Socket weld Raised Face Flanges uses in Chemical Industry
 Alloy Steel SWRF Flanges uses in Plumbing
 Flat Faced Socket weld Flanges uses in Heating
 Socket weld Pipe Flanges uses in Water Supply Systems
 ANSI B16.5 Socket weld Forged Flanges uses in Power Plant
 Socket weld Plate Flanges uses in Paper & Pulp Industry
 Socket weld Flange uses in General Purpose Applications
 Steel Socket weld Flanges uses in Fabrication Industry
 Socket weld Flange uses in Food Processing Industry
 Socket weld Flanges uses in Structural Pipe
Export Country
Export Destinations For Socket weld Plate Flanges
| | | | | | | |
| --- | --- | --- | --- | --- | --- | --- |
| MIDDLE EAST | AFRICA | NORTH AMERICA | EUROPE | | ASIA | SOUTH AMERICA |
|   Saudi Arabia |   Nigeria |   Usa |   Russia | |   India |   Argentina |
|   Iran |   Algeria |   Canada |   Norway | |   Singapore |   Bolivia |
|   Iraq |   Angola |   Mexico |   Germany | |   Malaysia |   Brazil |
|   Uae |   South Africa |   Panama |   France | |   Indonesia |   Chile |
|   Qatar |   Libya |   Costa Rica |   Italy | |   Thailand |   Venezuela |
|   Bahrain |   Egypt |   Puerto Rica |   Uk | |   Vietnam |   Colombia |
|   Oman |   Sudan |   Trinidad And Tobago |   Spain | |   South Korea |   Ecuador |
|   Kuwait |   Equatorial Guinea |   Jamaica |   Ukraine | |   Japan |   Guyana |
|   Turkey |   The Republic Of Congo |   Bahamas |   Netherland | |   Sri Lanka |   Paraguay |
|   Yemen |   Gabon |   Denmark |   Belgium | |   Maldives |   Uruguay |
|   Syria | | |   Greece | |   Bangladesh | |
|   Jordan | | |   Czech Republic | |   Mayanmar | |
|   Cyprus | | |   Portugal | |   Taiwan | |
| | | |   Hungary | |   Cambodia | |
| | | |   Albania | | | |
| | | |   Austria | | | |
| | | |   Switzerland | | | |
| | | |   Slovakia | | | |
| | | |   Finland | | | |
| | | |   Ireland | | | |
| | | |   Croatia | | | |
| | | |   Slovenia | | | |
| | | |   Malta | | | |