Socket Weld Unequal Tee
【Technology brief】
ASME B16.11 Forged Socket Weld Unequal Tee
【Materia】
ASTM/ ASME A 105, ASTM/ ASME A 350 LF 2, ASTM / ASME A 53 GR. A & B, ASTM A 106 GR. A, B & C. API 5L GR. B,
API 5L X 42, X 46, X 52, X 60, X 65 & X 70. ASTM / ASME A 691 GR A, B & C
【Size】
1/8″ NB TO 4″ NB
Description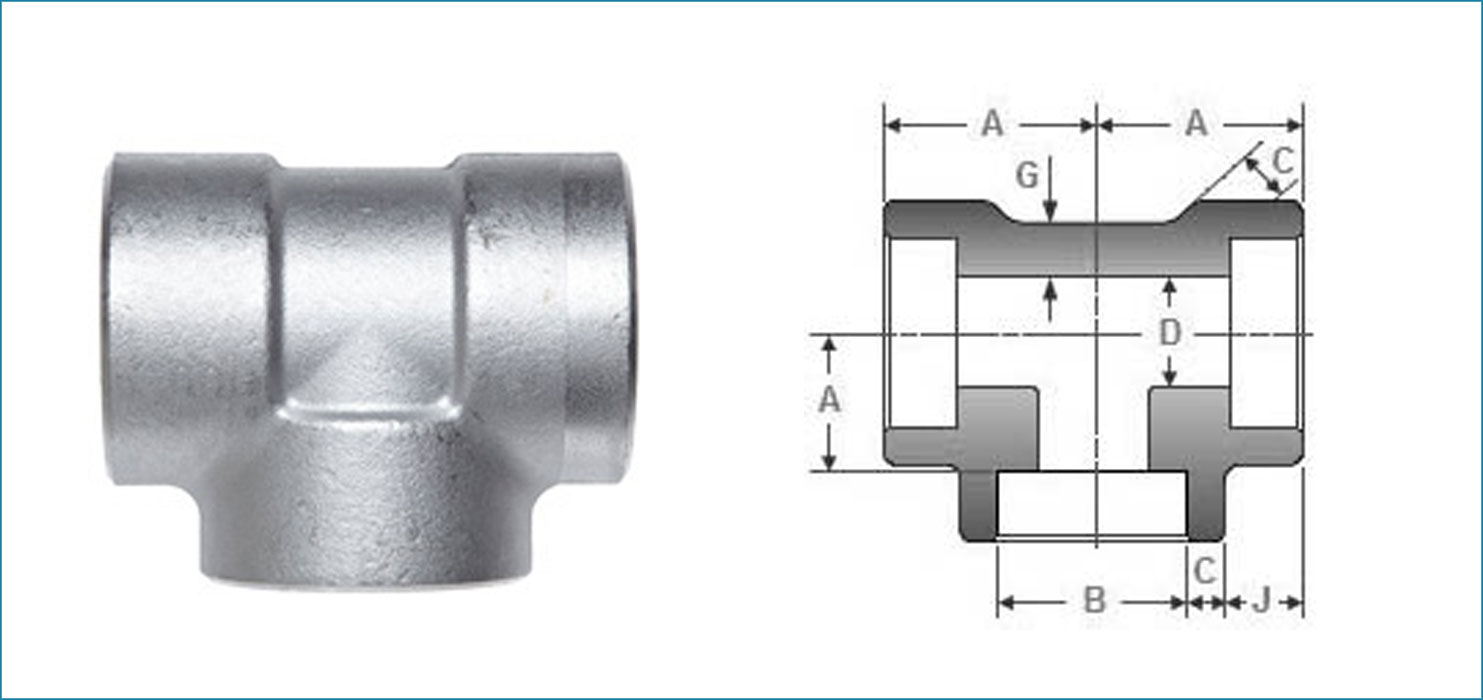 An ISO certified company, HGFF Group Co., LTD., is following international standards to provide the best for its customers who get enticed with the additional services provided to them. Socket Weld Unequal Tees are used to connect the pipes of different diameters and change the direction of the pipe ow. Another term for Unequal Tee is Reducing Tee. In the case of Stainless Steel Socket Weld Unequal Tees, the branch pipe diameter is smaller than the running pipe. The branch is the inlet of the Flow. These ASME B16.11
Socket Weld Reducing Tees are capable of handling high pressures or temperatures of the liquid owing through them. HGFF Group. flawlessly produces ANSI B16.11 Socket Weld Unequal Tees that have
zero defects and are promptly delivered to the clients with any additional changes if the client demands so.
Product Structure
Standard Specification For Forged Socket Weld Unequal Tee
Dimensions : ASME 16.11, MSS SP-79, MSS SP-95, 83, 95, 97, BS 3799
Size : 1/8″ NB TO 4″ NB
Pressure Class : 2000 LBS, 3000 LBS, 6000 LBS, 9000 LBS
Form : Unequal Tee, Forged Unequal Tee, Reducing Tee.Material & Grades of Forged Socket Weld Unequal Tee :
Stainless Steel Forged Socket Weld Unequal Tee :
ASTM A182 F304, F304L, F306, F316L, F304H, F309S, F309H, F310S, F310H, F316TI, F316H, F316LN, F317, F317L,
F321, F321H, F11, F22, F91, F347, F347H, F454L, ASTM A312/A403 TP304, TP304L, TP316, TP316L
Duplex & Super Duplex Steel Forged Socket Weld Unequal Tee :
ASTM A 182 – F 51, F53, F55 S 31803, S 32205, S 32550, S 32750, S 32760, S 32950.
Carbon Steel Forged Socket Weld Unequal Tee :ASTM/ ASME A 105, ASTM/ ASME A 350 LF 2, ASTM / ASME A 53 GR. A & B, ASTM A 106 GR. A, B & C. API 5L GR. B,API 5L X 42, X 46, X 52, X 60, X 65 & X 70. ASTM / ASME A 691 GR A, B & C
Alloy Steel Forged Socket Weld Unequal Tee :
ASTM / ASME A 182, ASTM / ASME A 335, ASTM / ASME A 234 GR P 1, P 5, P 9, P 11, P 12, P 22, P 23, P 91, ASTM /
ASME A 691 GR 1 CR, 1 1/4 CR, 2 1/4 CR, 5 CR, 9CR, 91
Copper Alloy Steel Forged Socket Weld Unequal Tee : ASTM / ASME SB 111 UNS NO. C 10100 , C 10200 , C
10300 , C 10800 , C 12000, C 12200, C 70600 C 71500, ASTM / ASME SB 466 UNS NO. C 70600 ( CU -NI- 45/10) , C
71500 ( CU -NI- 70/30)
Nickel Alloy Forged Socket Weld Unequal Tee :
ASTM / ASME SB 336, ASTM / ASME SB 564 / 160 / 163 / 472, UNS 2200 (NICKEL 200) , UNS 2201 (NICKEL 201 ) ,
UNS 4400 (MONEL 400 ) , UNS 8020 ( ALLOY 20 / 20 CB 3 ) , UNS 8825 INCONEL (825) , UNS 6600 (INCONEL 600 ) ,
UNS 6601 (INCONEL 601) , UNS 6625 (INCONEL 625) , UNS 10276 (HASTELLOY C 276)
ASME B16.11 Forged Socket Weld Unequal Tee Available Types
| | |
| --- | --- |
| Forged Socket weld Unequal Tee | Socket Welding Unequal Tee |
| 150 lb. Socket Weld Forged Tee | 2 inch Socket weld Tee |
| ASME B16.11 Socket weld Reducing Tee | 3000LB Socket Weld Unequal Tee |
| Socket Weld Unequal Tee Fittings | Class 6000 Socket Weld Forged Tee |
| ANSI B16.11 Forged Socket Weld Unequal Tee | BS 3799 Forged Socket Weld Unequal Tee |
| Forged Socket weld Reducing Tee | Socket Weld Reducing Tee Weight |
| Forged Steel Socket weld Reducing Tee | High Quality Socket weld Forged Tee |
| 1 inch Socket Weld Unequal Tee | Socket Weld Forged Pipe Tee |
Technical Parameters
ANSI/ASME B16.11 SOCKET WELD UNEQUAL TEE DIMENSIONS
Socket Weld Reducing Tee Dimensions
Socket Weld Unequal Tee Drawing
Class 3000 Socket Weld Unequal Tee Dimensions NPS 1/2 to 2
NPS
Socket Bore
Depth Socket
Bore dia
B
J
D
1/2
21.95
21.70
10
16.6
15
3/4
27.30
27.05
13
21.7
20.2
1
34.05
33.80
13
27.4
25.9
1.1/4
42.80
42.55
13
35.8
34.3
1.1/2
48.90
48.65
13
41.7
40.1
2
61.35
61.10
16
53.5
51.7
2.1/2
74.20
73.80
16
64.2
61.2
3
90.15
89.80
16
79.5
46.4
4
115.80
115.45
19
103.8
100.7
1/2
4.65
4.10
3.75
15.5
3/4
4.90
4.25
3.90
19.5
1
5.70
5.00
4.55
22
1.1/4
6.05
5.30
4.85
27
1.1/2
6.35
5.55
5.10
32
2
6.95
6.05
5.55
38
2.1/2
8.75
7.65
7.00
41.5
3
9.50
8.30
7.60
57.5
4
10.70
9.35
8.55
66.5
Class 6000 Socket Weld Unequal Tee Dimensions NPS 1/2 to 2
NPS
Socket Bore
Depth Socket
Bore dia
B
J
D
1/2
21.95
21.70
10
12.5
11
3/4
27.30
27.05
13
16.3
14.8
1
34.05
33.80
13
21.5
19.9
1.1/4
42.80
42.55
13
30.2
28.7
1.1/2
48.90
48.65
13
34.7
33.2
2
61.35
61.10
16
43.6
42.1
1/2
5.95
5.20
4.80
19.5
3/4
6.95
6.05
5.55
22.5
1
7.90
6.95
6.35
27
1.1/4
7.90
6.95
6.35
32
1.1/2
8.90
7.80
7.15
38
2
10.90
9.50
8.75
41
General notes:
Dimensions are in millimeters unless otherwise indicated.
Socket Bore (B) – Maximum and minimum dimensions.
Bore Diameter (D) – Maximum and minimum dimensions.
Socket wall thickness – (C) – Average of Socket wall thickness.
Dimensional tolerances center to bottom of socket – (A)
NPS 1/2 and NPS 3/4 = +/- 1.5 mm
NPS 1 to NPS 2 = +/- 2 mm
NPS 2.1/2 to NPS 4 = +/- 2.5 mm
Socket weld Reducing Tee Weight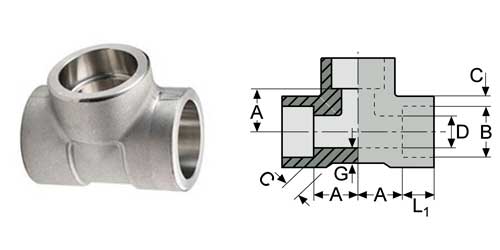 Nominal pipe size
B
L1
C
G
D
A

Weight

in.
mm
socket
mm
mm
mm
mm
~kg/pce
1/4
3/8
1/2
3/4

14.20
17.60
21.80
27.20

9.53
9.53
9.53
12.50

3.30
3.51
4.09
4.27

3.02
3.20
3.73
3.91

8.86
12.14
15.42
20.55

11.11
13.49
15.88
19.05

0.11
0.16
0.34
0.41

1
1¼
1½
2

33.90
42.70
48.80
61.20

12.50
12.50
12.50
16.00

4.98
5.28
5.54
6.05

4.55
4.85
5.08
5.54

26.26
34.67
40.51
52.12

22.23
26.99
31.75
38.10

0.65
0.95
1.33
2.20
Application
Forged Socket Weld Unequal Tee Application
ASME B16.11 Socket weld Unequal Tee are known to deliver exceptional performance and are generally
developed for meeting the demands. We oer a broad range of Forged Socket weld Reducing Tee through a
worldwide network of stock-keeping branches. These Forged Socket weld Unequal Tee is use in various industries
like :
 Stainless Steel Forged Socket weld Unequal Tee uses in Oil and Gas Pipeline
 Forged Socket weld Unequal Tee uses in Chemical Industry
 Alloy Steel Socket weld Unequal Tee uses in Plumbing
 Forged Socket weld Unequal Tee uses in Heating
 Socket weld Forged Reducing Tee uses in Water Supply Systems
 ANSI B16.11 Forged Socket weld Unequal Tee uses in Power Plant
 Socket weld Unequal Tee uses in Paper & Pulp Industry
 Forged Socket weld Unequal Tee uses in General Purpose Applications
 Forged Socket weld Reducing Tee uses in Fabrication Industry
 Forged Socket weld Unequal Tee uses in Food Processing Industry
 Forged Socket weld Unequal Tee uses in Structural Pipe